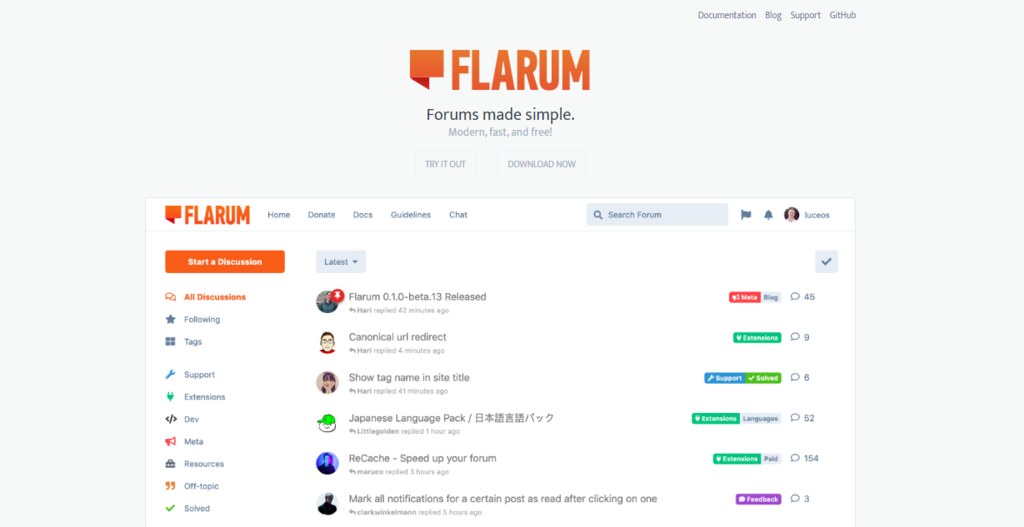 Flarum is a
free
forum software solution optimized for performance and ease-of-use, combining PHP and JavaScript to help the program load efficiently. Its design is intuitive and adapts across various devices.
This open-source forum builder also provides an easy setup process. Simply access the installation page (e.g.,
yourdomain.com/flarum
), then fill in your details and wait for the installation to complete.
Built with user experience in mind, Flarum's interface incorporates animations and other helpful features to improve user engagement. It also allows users to draft a message and scroll through discussions at the same time.
In addition, Flarum allows you to connect to an international audience. Download, install and add any from the 32 localization packs available. The system will automatically translate the original interface and help users from all over the world to be part of your community.
That said, Flarum is still
in early development
, and the program is undergoing testing phases. Thus, it's best to give it a quick test before installing Flarum on your server.
Pros
Provides integration with Pusher, allowing users to enable an interactive live chat feature
Since most of the features are available via extensions, users can easily enable or disable them based on their needs
Cons
The software requires Apache or Nginx web server, PHP 7.3+, MySQL 5.6+ as well as SSH access to run Composer
Although Flarum is still in beta testing, it already offers essential features found in other established forum software solutions. Its numerous extensions work with all kinds of communities.
Moreover, the simple and straightforward interface is suitable for beginners.
Before you install Flarum, it's important to check that your server meets the requirements. To run Flarum, you will need:
Apache (with mod_rewrite enabled) or Nginx
PHP 7.3+ with the following extensions: curl, dom, fileinfo, gd, json, mbstring, openssl, pdo_mysql, tokenizer, zip
MySQL 5.6+/8.0.23+ or MariaDB 10.0.5+
SSH (command-line) access to run Composer